THE MOST WONDERFUL THING
For all SMSS alumni bowlers, everything came to a crunch today, on Sunday, July 07, 2002 at Sunway Pyramid and as they say it, the proof of the pudding is in the eating. With battle flags flying and teams garbed in colorful jerseys, the SMSS Alumni 2002 Bowling Tournament got under way as planned. Batches stretching from the 70's to the early 90's were represented. Whooaaaa, batch '90, I mean, those guys were twelve years later than us. First thing I'd do is find them guilty, guilty of making us feel not so young anymore. But take heart you guys, feel blessed that we met batch '90 and not batch '01. Now, those guys, I'd indict, prosecute and find guilty faster than you could say hook ball.
Glad to say that the training binges we had the preceding three weeks were not in vain. Come on, are we supposed to believe that the others did not do the same? Hang on, hold on to your horses, the main reason we had those training sessions were to see if the fingers would still fit. I mean, hey, fingers grow, OK? In the eleven months between July 2001 and last month, our fingers could have grown, yah? So, the main reason that we had the training sessions were to see if the fingers would still fit in the holes. I swear, scout's honor. Hey the fact that I was never a Boy Scout should not be held against me, OK?
Right, pardon for the sidetrack but getting back to our topic. First thing Raof and Zambri asked about was the name of our team, i.e. Chap Beruang. So I told them that when I saw Liwauddin ('77)a few days before, he said that since we did not furnish him with a team name, he'd give our team a name based on color, flowers or something like that such as the Blue This or Green That or Whatever Thing. Now, I wasn't too crazy about being part of something called White Lotus or something like that. For some reason, sardines was on my mind at that time. Mind you, I like sardines, to the extend that my wife is pleasantly surprised once in a while when I'd ask her to cook sambal sardin for me. Hey, all SMSS alumni were exposed to the exquisite Damped Bread topped with Oily Sardines Au Gratin at the dining hall for breakfast and as all of us would attest, it is a treat that even Julia Child herself might smack her lips in appreciation.
Anyway, when we think of sardines, we'd think of ayam brand. Now, Chap Ayam is not really that catchy and we do not have the appropriate team member (here's taking a shot at you, Yas!) and I'm sure M Cloquet and Sons (brand owner of Ayam Brand sardines) wouldn't appreciate us using it. Another option was Harimau Bawah Pokok Kelapa but all of us have been sober all these years and it is a rather inappropriate name for the squeaky clean soprts of bowling. So the next best thing was a bear, of which the logic eludes me, frankly. It was too late to change it to a name that they have in mind.
When the dust settled, we came out sixth out of 18 teams, which is, come to think of it, not bad. Had there been 9 teams, we would have been third. Now, had there been 3 teams, we would have been the champion! Hey, we're good! If de Bono has his lateral thinking to peddle around the globe, we might have something here too, except that we'd have to call it warped logic or something like that. Anyway, we think that we do have a thing or two to pick with Liwauddin on the matter of this handicap thing. Now, that is simple, blatant and unabashed discrimination.
Handicaps should be based on something more logical, such as, such as age! We'd just have to deal with the '77 batch (the only batch more senior than us) then and they did not do very well, bowling-wise that is. That's a plus. Now, we could base handicaps on something more illogical, like looks but then some teams would win hands down. Hey, some of the guys who are in their 40's are really good looking, do you know that? Anyway, we'd lobby for a more rational handicap classification for next year. Failing which, someone would really have to start learning how to wear a tudung.
Thanks to our supporters, Kamal, Sabri, Rusihan, Sherry, Majdi, a spouse or two and others who were at the bowling alley, especially the others. Well, today, we have a new champion. Which simply means that, next year, after taking care of the Dragon Slayers today, we have a new champion to slay. The most wonderful thing is that, next year; we'll be competing against each other again. And something much much more wonderful than that, I have a feeling that a team named Dudae Simboyo (pronounced Dhu-dak-ei Sim-pho-yo) will spring a surprise or two. We'll teach you guys to pronounce it properly come next year's rumble. So loosen those tongues and see you again next year.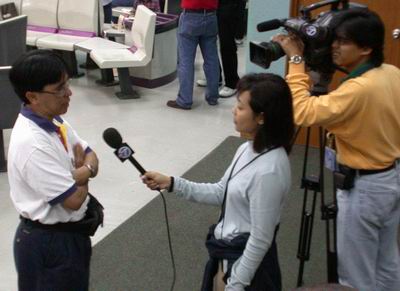 Did you all not see the news on NTV7? Check out who was on the primetime evening news. (You can't can you?) The News is done...anyways, he got his 30 second of fame...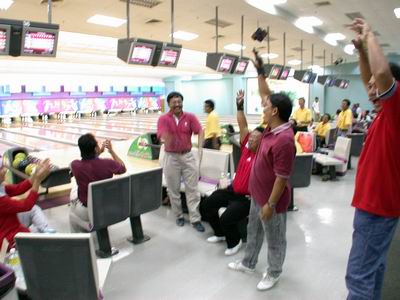 All Hail to the new King!!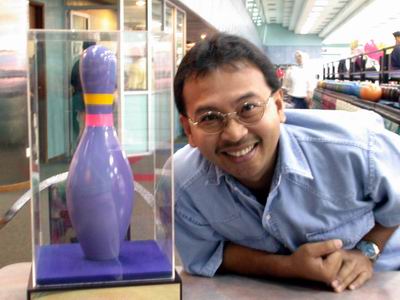 He thinks, therefore...did he?!